Description
OVERVIEW

---
Create stunning visual displays and immersive environments with the EV-115 Lightscene Laser Projector, the cutting-edge projection signage solution from Epson. A convergence of lighting and display technology, Epson's latest range of LightScene range of projectors captivate audiences by simultaneously illuminating and projecting on virtually any surface or material, unleashing dynamic, experiential content for digital art, commercial signage and décor applications. Designed to blend in discreetly to any setting — from retail, hospitality and event spaces to showrooms and museums — EV-115 Lightscene Laser Projector offers a sleek black spotlight design, with an array of configuration, mounting and programming options.
Laser projector with up to 20,000 hours of virtually maintenance-free operation
Sleek spotlight design that seamlessly blends into any environment
Basic interactivity with GPI input function
Suite of software to support projection and content management functions
Flexible installations with 360 degree ball-joint structure

Laser Light Source Technology
With key components such as the laser diode, inorganic 3LCD panels, and phosphor wheel fully sealed, you can now project with a peace of mind for 20,000 hours1 without any downtime for maintenance. The EV-115 LightScene Laser Projector's durable build allows it to work longer without disruption. Most importantly, there are no lamps to replace, reducing operation cost, time, and hassle.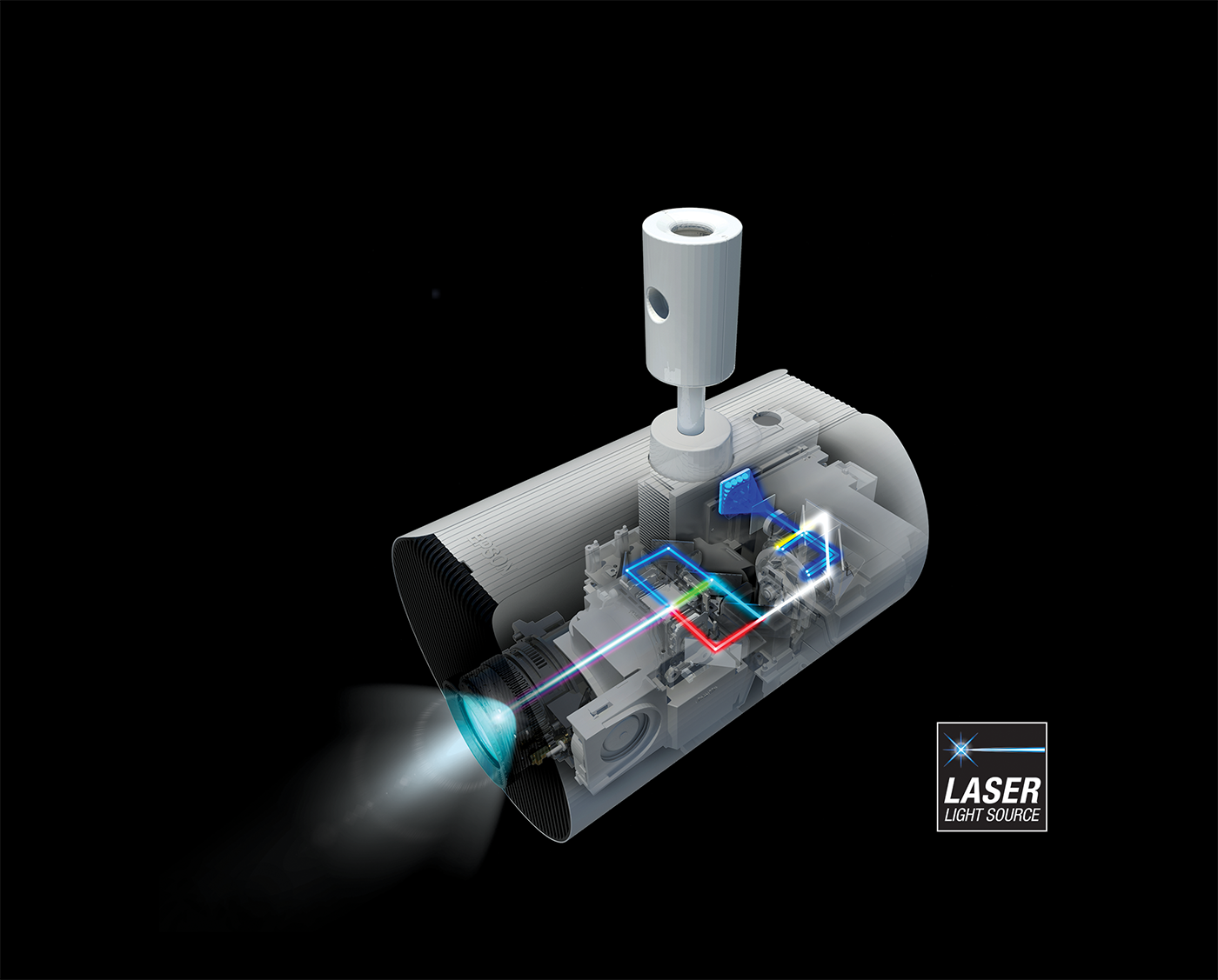 Sensor Integration With General Purpose Interface
With its GPI function, users are able to enhance engagements with customers by connecting sensors to the projector. With the sensors integrated to the EV-115 LightScene Laser Projector, you can easily program it to detect motions and project dynamic contents simultaneously, in turn, elevating both guests and customers' experience.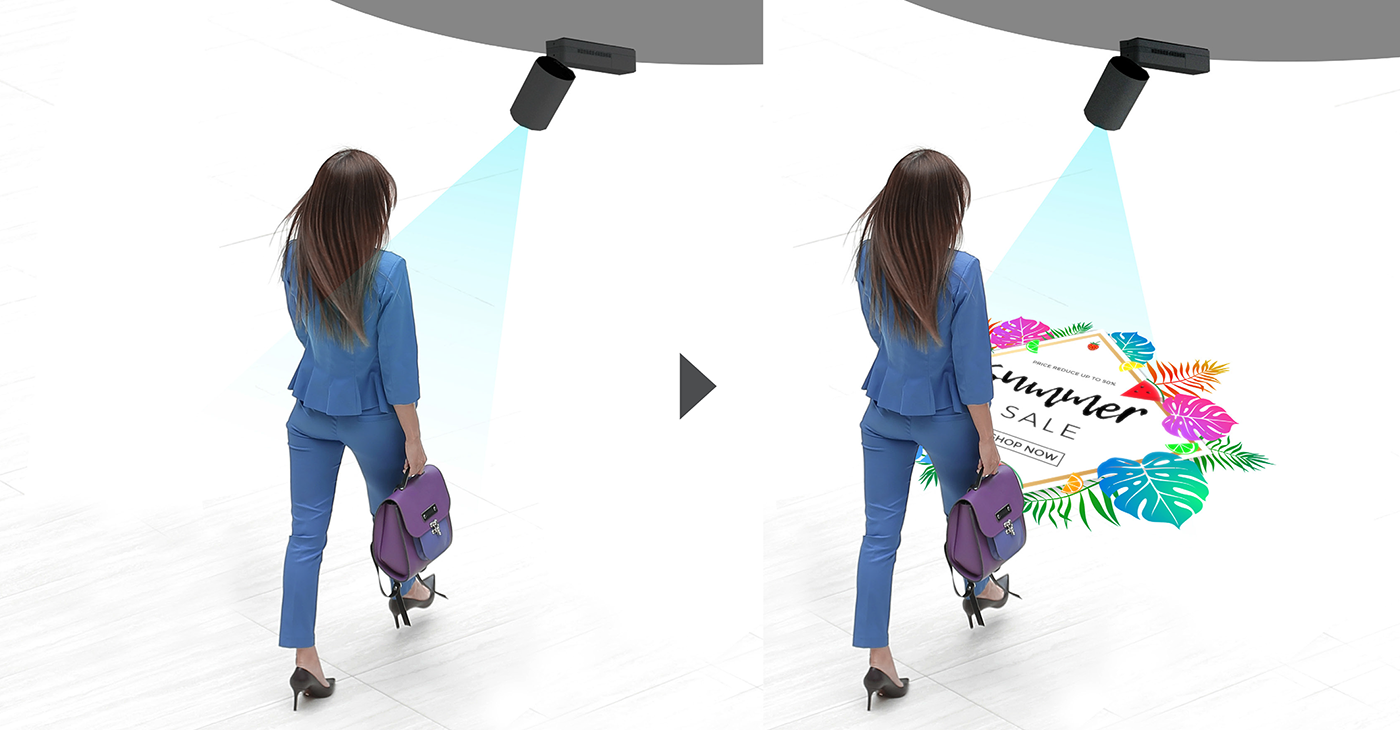 Rich and clear audio via bluetooth connectivity
The EV-115 LightScene Laser Projector has bluetooth connectivity function, allowing fuss-free connection to external speakers without complicated and messy cable management. Enjoy the flexibility in the placement of your audio system to create a rich and soothing ambience for your space.

Compatible with Epson Creative Projection App
Jazz up your displays and spaces with creative personalised content using the Epson Creative Projection App2. Upload your contents onto the projector via the SD card or through network, hence further reducing the hassle.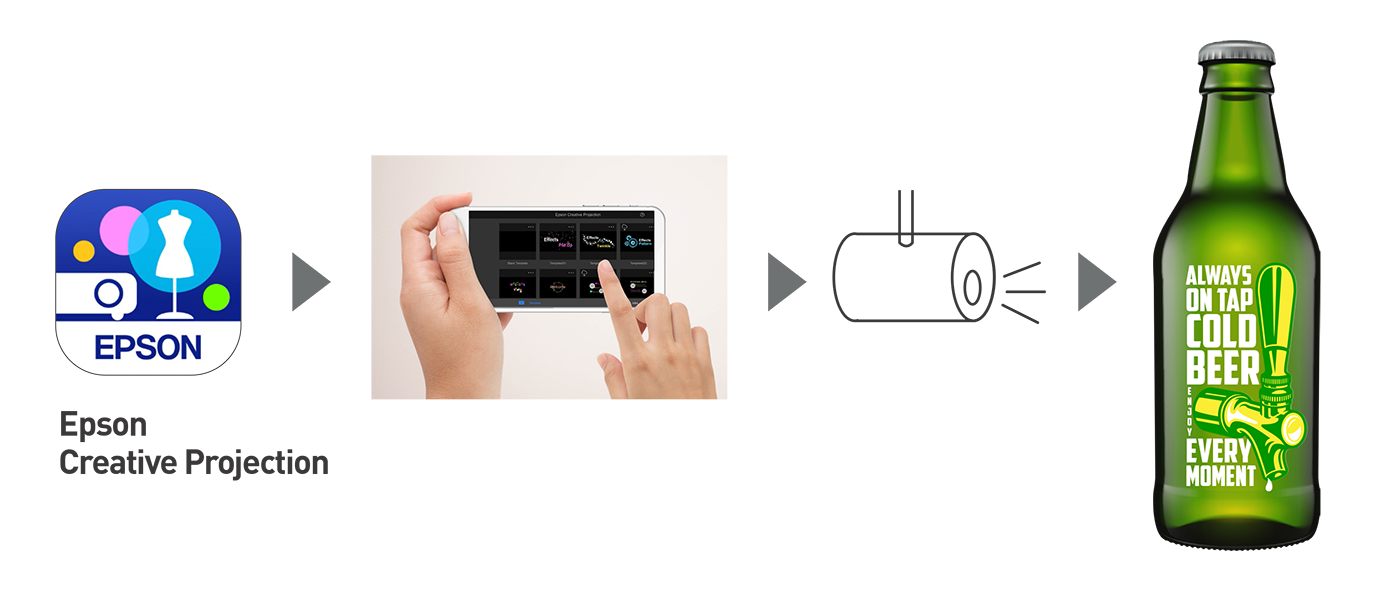 Sleek Spotlight Design
The stylish spotlight design of EV-115 LightScene Laser Projector blends in perfectly with the store's aesthetics, ensuring it does not look out-of-place, while engaging customers with dynamic contents.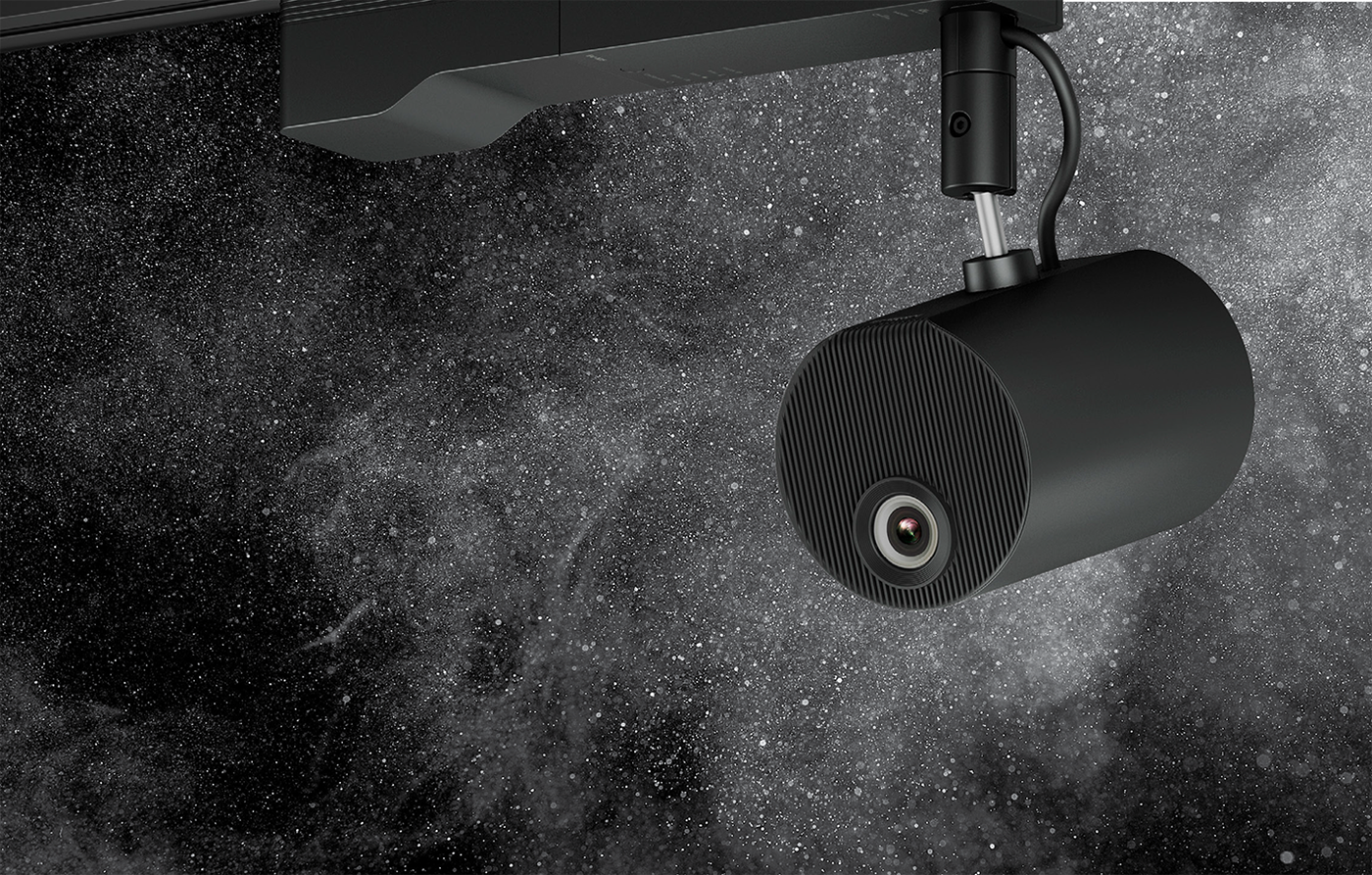 SPECIFICATIONS

---
Projection Technology:
Projection Technology:RGB liquid crystal shutter projection system
Projectors Facets:

Resolution, Projectors Facets:WXGA
Contrast Ratio, Projectors Facets:Over 2,500,000:1
Inputs & Interfaces, Projectors Facets:
HDMI
Epson Creative Projection App
RJ-45 & RS-232
SD Card
Brightness Range Lumens, Projectors Facets:2000
Features, Projectors Facets:
Wifi
Quick Corner
Standard Throw
GPI Function
Edge Blending
Laser / Lamp, Projectors Facets:Laser
Connectivity:

Network:
Wired LAN: RJ45 x 1 (100Mbps)
Wireless: Built-in
Memory:SD Card: 1 (SDHC, up to 32GB, more than Class 10)
Digital Input:HDMI: 1
Audio Output:Stereo Mini Jack: 1
USB Input:
USB Type B: 1 (For firmware update)
USB Type A: 1 (For GPI In [2 Ch] or 5V/2A Power Supply)
Contrast Ratio:

Contrast Ratio:Over 2,500,000:1
Wireless Specifications (Wireless LAN: Built-in):

Supported Speed for Each Mode:
IEEE 802.11b (2.4GHz): 11Mbps
IEEE 802.11g (2.4GHz): 54Mbps
IEEE 802.11n (2.4GHz): 72.2Mbps
IEEE 802.11a (5GHz): 54Mbps
IEEE 802.11n (5GHz): 150Mbps
Wireless LAN Security:
Open
WPA2/WPA3-PSK
WPA2/WPA3-EAP
Supported EAP Type: PEAP, PEAP-TLS, EAP-TLS, EAP-Fast
Supported Connection Mode:Infrastructure, Access Point
Geometric Correction:

Vertical/Horizontal Keystone:±45° / ±40°Quick Corner:Yes
Operating Temperature:

Operating Temperature:
Low altitude (0 to 2286m/7500ft):
5 deg C to 40 deg C (41 deg F to 104 deg F)
High altitude (Over 2286m / 7500ft):
5 deg C to 35 deg C (41 deg F to 95 deg F)
20% – 80% humidity, No condensation
Operating Altitude:

Operating Altitude:
0 m to 3048 m (0 ft to 10000 ft)
(over 1500 m / 4921 ft : with High altitude mode)
Start-Up Period:

Start-Up Period:
Less than 9 seconds
Warm-up period: 30 seconds
Cool Down Period:

Cool Down Period:Instant off
Direct Power On/Off:

Direct Power On/Off:Yes / Yes
Dimension Excluding Feet (W x H x D):

Dimension Excluding Feet (W x H x D):
Projection unit: Φ 175 x D260
Power supply unit: 361 x 65 x 110 mm (without Cable Cover)
Weight:

Weight:Approx. 15.2 lbs. / 6.9kg (Main Unit and Direct Mount unit)
Fan Noise:

Fan Noise (Normal / Eco):34 / 22 dB
Power Consumption (220 – 240V):

Stand By (Network On / Off):2.0W / 0.40W
Laser diode on (normal / quiet):149W / 112W
Brightness:

White Light Output (Normal / Quiet / extended):
2200lm / 1100lm / 1100lm
Colour Light Output:2200lm
Colour Mode:Dynamic
Specifications of Main Parts:

LCD:
Resolution: WXGA
Size: 0.59 inch (D8, C2 fine)
Projection Lens:
Type: Laser Diode
Type: Optical Zoom (Powered) / Focus (Powered)
Zoom Ratio: 1 – 1.58 (Optical Zoom)
Zoom Ratio: 1 – 1.40 (Digital Zoom)
Throw Ratio: 1.38 – 2.19 (Wide to Tele)
Type: Laser Diode
Life (normal/quiet/extended): 20000hrs / 20000hrs / 30000hrs
Screen Size (projected distance):
30" to 150" (0.88 to 4.51 m) (Wide Zoom)
30" to 150" (1.41 to 7.16 m) (Tele Zoom)
60" screen 1.79m (Standard size)
Power Supply Voltage:

Power Supply Voltage:100 – 240 V AC +/- 10%, 50/60 Hz
Contents Player:

Playlist:Yes
Timetable (scheduled playlist):Yes
SD viewer:Yes
Playlist Contents:
Motion JPEG Movie (AVI), and Photo (JPEG, PNG, GIF, BMP)
Options:

Options:
(Floor Stand) Black: ELPMB55B
(Floor Stand) White: ELPMB55W
(Lighting Track) White: ELPMB66W
(Lighting Track) Black: ELPMB66B
Colour Mode:

Colour Mode:
Dynamic
Normal